Book Your Dumpster Rentals
Snap Junk Removal does dumpster rentals right! If you need a premium dumpster for your next project, our team has you covered. When it comes to dumpster rentals, we believe in keeping it simple. From our affordable prices to our easy to use online ordering system, securing a dumpster to haul out your junk has never been easier. As a locally owned and operated junk removal company, you can rely on us to be there on time, every time. No more waiting around for unreliable dumpster rental companies! We have three different dumpster options to choose from, ensuring you get the perfect sized dumpster to get the job done right. We also offer a convenient curbside service, so there's no need to wait around all day for us!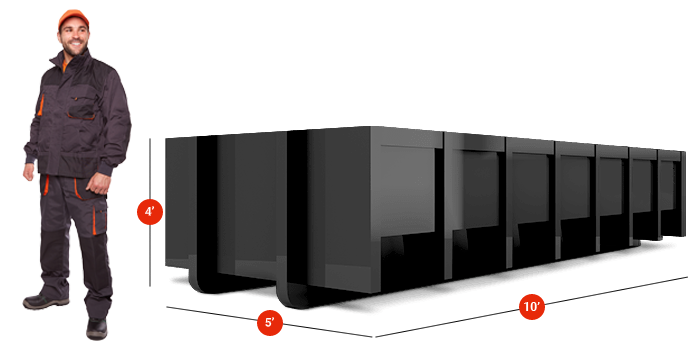 7.5 YARD DUMPSTER
Capacity Equivalent: 2.5 Pick-up Loads
Ideal for household cleanup projects, including removal of old carpets, small furniture, toys and other household items. At 4 feet tall, this dumpster is easy to load, too.
Book Online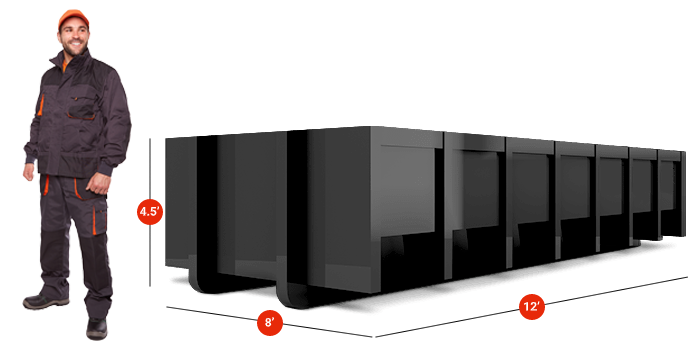 15 YARD ROLL-OFF DUMPSTERS
Capacity Equivalent: 8 Pick-up Loads
This dumpster is large enough for bigger remodeling project like bathroom renovations, or full attic and garage cleanouts. Great for bulky, heavy and large materials.
Book Online
Why Roll Off Dumpster Rentals?
There are so many projects that require the use of a roll off dumpster to get the job done right. And you won't find a more dedicated team than the one at Snap Junk Removal when it comes to ensuring your junk is handled properly. We make it so simple to clean up and get rid of the unwanted junk that you'll wonder why you didn't do it sooner! With three different dumpster rental options to choose from, you can rest assured we'll have the perfect size and style for your specific project. Whether you're planning to move and need to purge some unneeded junk, or you're planning a whole home renovation, we have the perfect solution for properly disposing of your excess waste. The best part is that you can feel great about your decision to choose Snap Junk Removal because we work closely with local waste management authorities to ensure that your refuse is handled properly. We're dedicated to sustainably and responsibly getting rid of waste.

When it comes to doing any kind of project, waste management dumpster rentals should be at the top of your to-do list. Before you start hauling things out, make sure you have a place to put them, there's no sense in handling junk more than once! At Snap Junk Removal, we're proud to deliver our premium dumpsters all over our community and the surrounding areas. We love playing an integral role in the cleanup and improvement of our community. Don't put that project off any longer! Whether your garage could use a good purge, or your backyard needs a landscaping refresh, get in touch with us today to reserve your dumpster rental.
We'll Pick Up Just About Anything!
Below are examples of items we pick up but not limited to:
Furniture
Household Trash
Appliances
Metal
Construction Waste & Debris
Branches
Hot Tubs
Spas
Sheds
Decks
Big Screen Televisions
Lawn Mowers
Desks
Ottomans
Armoires
Tables
Chairs
Beds
Mattresses
Bed Frames
Dressers
Boards
Glass
Windows
Cardboard
Moving Boxes
Rugs
Washers & Dryers
Tools
Computers
Electronics
Toys
Printers
Books
Recyclable Items
Pallets
Batteries
Rims
Swing Sets
Playgrounds
Storage Unit Junk
Freezers
Scrap Metal
Toilets
TVs
Refrigerators
Bbq Pits
Shelves
Carpet (Yes we can rip it out for you too)
Brush
Rotten Lumber
Sheet Rock
Sinks
Cabinets
Vanities
Mirrors
Garage Junk
Dishes
Dishwashers
Glassware
Donation Items
Sporting Goods
Frames
Drywall
Crt Monitors
Food Trash
Clothes
Warehouse Junk
Estate Junk
Dumpster Rentals That Get the Job Done Right
If you're ready to get the dumpster rental process started, we make the reservation process simple, easy, and convenient. You can quickly secure the waste management dumpster of your choice right through our online ordering system from the comfort of your own home and on your schedule. Have questions for our team? Feel free to reach out anytime! We're open Monday to Saturday from 8 am to 8 pm for your convenience. We're here for you when you need us the most! Whether you're a commercial client or a homeowner, we're excited to help you get started on your next project.
7.5 Yard Dumpster
Our small but mighty 7.5-yard dumpster is one of our most popular options. This dumpster is the perfect solution for a number of small-scale projects, including garage and attic cleanouts, moving cleanouts, and other small projects. This is the top choice for many of our residential customers who simply need something larger than their regular refuse bins but don't require the use of a full-blown dumpster.
Book Now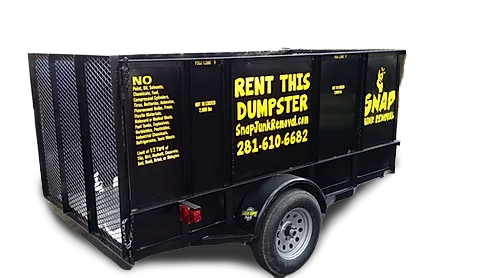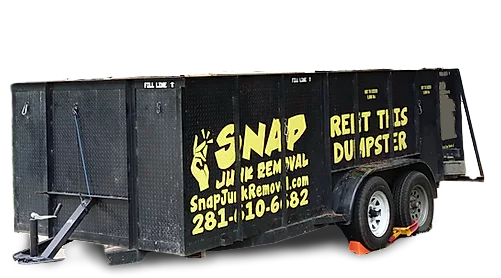 15-Yard Trailer
Our 15-yard trailer is perfect for fitting into small spaces and makes for easy back end loading. This option is perfect for all kinds of household junk and event trash, but not recommended for remodeling waste. This dumpster has rubber tires, so no need to worry about scratching your driveway and it also allows for easy mobility around your home. This option is great for everything from garage and attic cleanouts, furniture removal, back yard junk, and more!
Book Now
15-Yard Roll Off Dumpster
With the capacity to hold up to 5 pickup truck loads of junk, this is your go-to for kitchen and bathroom remodeling debris, construction waste, furniture removal, lumber, branches, and more. This is the one you want to choose if you're planning a remodel as it has plenty of space and durability for whatever you throw its way.
Book Now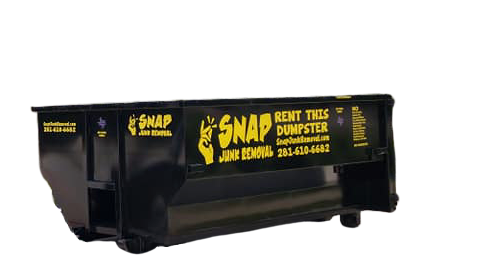 See What Our Customers Say!
"We were so impressed at their amazing service! Starting from a reasonably priced quote, a courtesy call to let us know when they would arrive, impressive promptness, wonderful attitudes (even in extreme Houston heat), and their hard work until the job was finished. Our old shed is gone and we were so pleased with the experience with this company. My review and rating come from being extremely pleased (not prompted by anyone at all). I will recommend to everyone in the area."
"We called to have junknremoved from our garage. They were responsive and showed up on time and were very efficient!"
"Very professional. Removed a hot tub, couch and several boxes of junk! Very hot day to be working. They were quick and very reasonable. Worth every penny!!!"
Call us today!
346-225-5144
Why delay your next project when Snap Junk Removal makes getting rid of your unwanted junk a cinch? When you choose to rent your dumpster from us, you can rest assured that you're receiving the highest quality dumpster along with good old fashioned customer service and care. We're proud to serve our community and take pride in helping complete projects all over town. Should you have any questions, we invite you to get in touch with us through email, text, or phone. We come in early and stay late to make sure we're here when you need us.

When you're ready to get started, you can reserve your dumpster using our easy online ordering system. Our mission is to take the stress and guesswork out of dumpster rentals so that you can keep moving with your day.

Office Hours
The team at Snap Junk Removal is here for you 6 days a week, Monday through Friday, 8:30 am to 5:00 pm, and Saturday from 8:30 am to 2:00 pm.
Our Service Area
Snap Enterprise LLC is proud to serve the following communities in and around Northwest Houston:
Houston
Spring
Cypress
Tomball
Magnolia
Katy
Pinehurst
Jersey Village
Rosehill
Hockley
Waller
The Woodlands